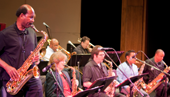 Jazz Orchestra performs at Hayward schools benefit concert.
The Jazz Orchestra will be lending its talents to the Fifth Annual cHime-in Holiday Reception from 5:30 to 8:15 p.m. Thursday, Dec. 16 at the Hayward City Hall Rotunda, 777 B St. The evening of music will raise money for the Hayward Public Schools.
The concert will begin with music by Hayward Public School bands and choirs, and conclude with the University group, directed by Johannes Wallmann, assistant professor of music and director of jazz studies and jazz ensembles, performing, "Tree Frog," "Ario," "Shadow Dance," "Blues for C.M.," and "The Razor's Edge."
The concert title, "cHime," comes from Choral and Instrumental Music Education, with the raised H referring to Hayward. The group was created by Robert Cooper, former Hayward mayor, the late Jack Smith, and community members George Famous and Gil Zaballos.
Since 2005, cHime-in has raised more than $75,000 to Hayward schools for musical instruments and expenses. Tickets at $50 each are available from Kimberly Becker, 510-583-3414 or Kimberly@felson.com
DD