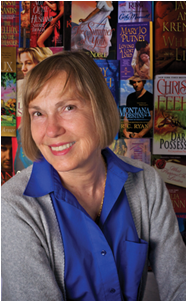 Kristin Ramsdell
Kristin Ramsdell, romance reviewer. It's a saucy-sounding title for a woman who spent her professional days ensconced in the library stacks, training students to conduct bibliographic research, and doing her part to legitimize a marginalized genre.
It wasn't the steamy storylines or heaving chest clichés, though, that prompted Librarian Emerita Ramsdell to take the romance genre seriously. It was the numbers.
With $1.37 billion in annual sales, romance is the top selling genre in the consumer market. About 75 million readers devoured at least one romance title in 2008 alone. Ramsdell, a former Romance Writers of America Librarian of the Year, has kept romance lovers abreast of the best available for 16 years through a bi-monthly review column she pens for the national Library Journal. She also edits Romance Fiction: A Guide to the Genre, a reference guide found on public library shelves nationwide.
"Romance fiction is very empowering for women, because women win … It shows women taking charge of their own lives. The days –– at least in the United States –– of a woman waiting for her prince have changed. The heroine will just as likely save the hero as the other way around. Generally, they end up working together," said Ramsdell.
Read more in the fall issue of Cal State East Bay magazine
EB/KL