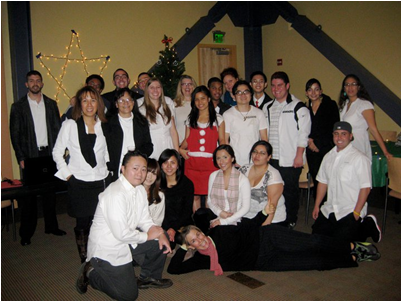 REC 4502 class
Can you imagine trying to celebrate Halloween, Thanksgiving, Hanukkah, Christmas, and New Year's Day festivities all at the same time? For their final exam, students in Associate Professor Mary Fortune's REC 4502 Special Event Planning class did just that by putting on a Falliday event for the CSUEB community on Nov 30.
"Students did everything on their own – sought money, planned activities, did the marketing, etc....just like a real special event," said Fortune. "They even distributed a survey and, of those that attended, 92% said the activities were above average to excellent and 100% said they would recommend future events from this group! Now, isn't that cool? I am so proud of my students – taking what they learned in the classroom out into the field!"
In case you missed the event, ASI captured the student's hard work on video. View video.  
REC 4502 Special Event Planning is offered each quarter as both online and hybrid classroom modalities. The course counts toward GE credits. For more information please contact Professor Fortune at mary.fortune@csueastbay.edu.
KL