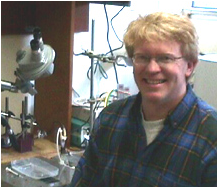 Michael Hedrick
The Journal of Experimental Biology published new research from Michael Hedrick, chair of the department of biological sciences, and his colleagues at Portland State University, California Academy of Sciences, and University of Western Australia.
In "Lymph flux rates from various lymph sacs in the cane toad Rhinella marina: an experimental evaluation of the roles of compliance, skeletal muscles and the lungs in the movement of lymph," the authors developed a new method for quantitatively determining lymph flux from various lymphatic sacs of an anuran, the cane toad. Their method used the dye dilution principle following injection of Evans Blue into specific lymph sacs and measuring its appearance in the venous circulation. Lymph flux rates were influenced by injection volume in the calf lymph lymph sac. Femoral lymph sac fluxes were decreased 60% after ablation of the tendons of several lymph muscles, and decreased 70% by insertion of a coil into the subvertebral lymph sac overlying the lungs. These data provide the first experimental evidence that actual lymph fluxes in the cane toad depend on lymph sac compliance, contraction of specific skeletal muscles and lung ventilation to move lymph laterally and vertically to the dorsally located lymphatic hearts.
Read the article online.
BH/KL