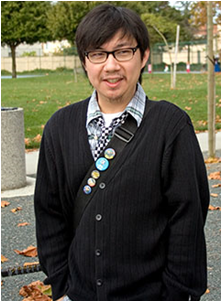 Mike De Jesus (by: crazygolucky.com)
What started as a way for art major Mike De Jesus '06 to showcase his portfolio organically grew into a t-shirt business that is "cheerfully unconcerned in a bizarre, fantastic, or overly enthusiastic manner." Crazy Go Lucky apparel was born in August 2008 when he released one of his designs - Robot's are a Nerd's Best Friend – as a t-shirt.
"I like making these cute, colorful, funny, nerdy, and sometimes strange designs, "said De Jesus. " I like coming up with concepts for designs and things and having the creative control to make them happen. This is something a regular 9-5 has yet to enable me to have."
De Jesus earned his BA in art with a concentration in digital graphics and multimedia and minored in Filipino and Filipino American Studies.
Visit Crazy Go Lucky to see De Jesus's fun quirky designs for yourself. Congrats, Mike!
KL