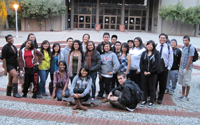 Large group of students.
December 13, 2010 11:00am
Thanks campus community! 
Through donations from faculty, students, friends and family of CSUEB the English Department raised $885 for Heifer International to donate one cow, one llama, one goat, 60 ducks and chickens, and a bunch of rabbits to hungry families in several countries.
The project — entitled "Mootopia!" — was organized by Lecturer Leslie Marron's English 910-12 class, with the support from Associate Professor and Chair Dennis Chester, and Associate Professor Margaret Rustick. The students stationed themselves at a table outside of the University Bookstore.
"My class was working on their problem/solution essays when they decided that they wanted to do more than just "write" about the solutions, they wanted to be part of the solution! Our goal was to raise $500 for one cow, and as you can see, they almost doubled that amount. They raised the money without selling anything," said Marron.
DD