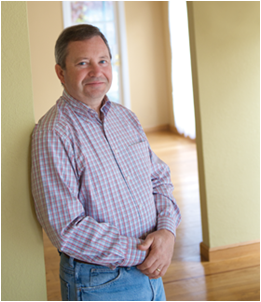 Patrick Devine (By: Stephanie Secrest)
Patrick Devine '87, MBA '91 found his way to Cal State East Bay on a path familiar to many fellow graduates. The 2010 Alumnus of the Year came to the U.S. in search of opportunity, leaving his native Ireland at just 18. By the time he began thinking about college, he was a working adult with a family and a career. Living in Castro Valley made then-Cal State Hayward the convenient choice.
As he soon discovered, though, it was also the perfect choice. "I always remember coming up the hill to campus into this cocoon of safety," he says. "There was friendliness, lack of stress, sunshine, and the view. Everyone was equal, just students working together."
Devine has worked in the high tech industry for decades, developing a specialty in compensation and incentive programs. He's been with some of the region's top companies, including Seagate and Applied Materials, and is now Senior Director of Global Incentive Compensation at Oracle Corp. — a Silicon Valley powerhouse and one of the world's largest software companies.
Devine and his international team manage Oracle's global incentives, acquisitions, and integrations that have, to date, cost more than $60 billion and include over 50 companies. His worldwide team meets face-to-face a few times a year, connecting across continents and time zones primarily by phone, e-mail, or virtual meetings.
Read more about Devine's accomplishments in the fall issue of Cal State East Bay magazine: