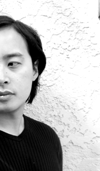 Head shot of Nicholas Vasallo.
Two compositions by 2007 grad and current music lecturer Nicholas Vasallo will be performed Feb. 24 by the CSUEB Symphony Orchestra at 7:30 p.m. in the Music Building Recital Hall, room 1055.
The first pieces he composed following graduation and the first for the orchestra, "Coalescence" was the "April in Santa Cruz Music Festival 2009" official selection and, "Expand the Hive," was the 2009 University of California, Santa Cruz student composer's award winner. 
As a Chancellor's Fellow at University of California Santa Cruz, Vasallo earned his Masters Degree in Music in 2009 and is currently a President's Fellow and Doctoral candidate in Composition and World Music where he has studied with composers Hi-Kyung Kim, Paul Nauert, and David Cope, and is currently studying privately with David Evan Jones.
Vasallo has been into music since high school when he took up the electric guitar and forming the extreme metal band, "Antagony." His music reveals an array of influences: Metal, Ambient, Taiko, Gamelan, and Noise, and has been internationally performed by groups such as Contemporary Music Ensemble Korea, Del Sol String Quartet, San Francisco Choral Artists, Atlanta Schola Cantorum, and Watsonville Taiko.
The Feb. 24 concert, conducted by Wesley Broadnax, assistant professor of music, will feature Vasily Kalinnikov's, "Symphony No. 1 in G Minor."
Admission will be $7 general, $5 seniors/youth, and free to those with a CSUEB ID. 
Information is available at 510-885-3167.
DD