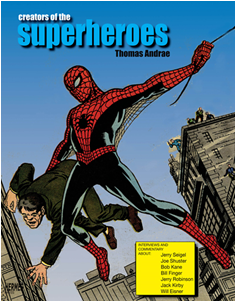 Creators of the Superheroes cover (By: Hermes Press)
Cal State East Bay Sociology Lecturer Thomas Andrae published what has been called the most "definitive book about the creators of the greatest superheroes." Creators of the Superheroes (Hermes Press 2010) tells the true story of the "gay" Superman; of how DC fought to de-"sex" Lois Lane; and, the real truth about who created Joker and Robin.  
Andrae, a world-renowned expert on Batman and Superman, provides commentary and offers definitive interviews with Jerry Siegel and Joe Shuster, creators of Superman; with Bob Kane and Bill Finger, co-creators of Batman; and Jerry Robinson, creator of Robin, the Boy Wonder, and the Joker. Also presented are interviews with and commentary about Jack Kirby covering the creation of the Amazing Spider-Man, Captain America, and the Marvel Universe; plus an extensive interview with Will Eisner complete with a reprint of the rarely seen Wonderman story and an exhaustive discussion about The Spirit.
KL