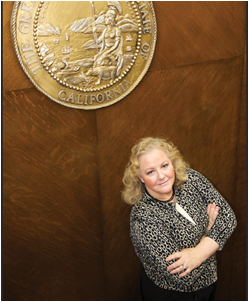 Nancy O'Malley
The law has long been part of Nancy O'Malley's family —her father was DA of Contra Costa County from 1969 to 1984 — but O'Malley couldn't imagine a legal career when she was young. "I spent my grade school years in trouble for having a big mouth," she recalls; her outspoken opinions were considered disrespectful. After high school she worked for a couple of years at a photo-processing firm before enrolling at what was then Cal State Hayward.
University life thrilled her. "Once I got there, I loved it," she says. "The classes were stimulating and engaging." Volunteering at a rape crisis center led her to a political science major; "I could see politics at work against victims of crime," she recalls. O'Malley idolized Professor J. Malcolm Smith (whom she remembers as "engaging, smart, nice, and very accessible"), dreamed of an academic career, and wrote a senior thesis on upstart gubernatorial candidate Jerry Brown.
 She enrolled in Golden Gate University School of Law, graduating in 1983. Nine months later she applied to the Alameda County DA's office. "What drew me here was not so much public service as the opportunity to go to trial," she says.
Read more about O'Malley's career and her latest initiative, known as Human Exploitation and Trafficking (HEAT) Watch, in the spring issue of Cal State East Bay magazine. 
KL