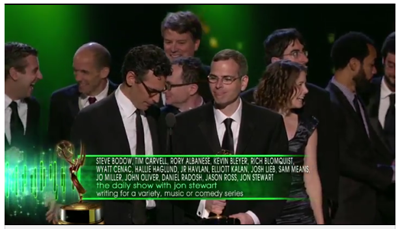 JR Havlan '87 (second from left) and the writers of "The Daily Show with Jon Stewart" accept the award for Outstanding Writing at the 2011 Emmys.
September 20, 2011 5:30am
Congratulations to the writing staff at "The Daily Show with Jon Stewart" — including CSUEB alumnus J.R. Havlan — for winning an Emmy for Outstanding Writing for a Variety, Music or Comedy Series at the 63rd annual Primetime Emmy awards on Sunday. It was the 11th consecutive nomination and the seventh win for Comedy Central's satirical news writers, who got their last statue in 2009. "The Daily Show" also won the Emmy for Outstanding Variety, Music Or Comedy Series for the ninth year in a row, joining two Peabody Awards for excellence in broadcasting and, somewhat unexpectedly, a Grammy for the audio version of "America: The Book." 
Havlan, who grew up in Danville and earned a degree in business from then-Cal State Hayward, has been with "The Daily Show" for all of it. He moved to New York after graduation and began doing stand-up comedy and writing jokes for "Politically Incorrect with Bill Maher." Through that job, he landed a spot on the "Daily Show" staff and the rest, as he told Cal State East Bay Magazine in 2010, is history. "It's not only creating your opportunity, it's being prepared once you get it," he said. "You have the responsibility of creating the opportunity for yourself, but you have to prepare to deliver. Then I got super lucky, because the show became what it is, and I enjoy what I do." 
Watch the writers' acceptance speech — with Havlan on the left, in the gold vest, waving to the camera