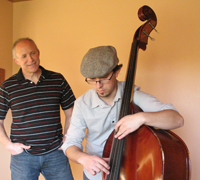 Man with son who is playing the string bass.
The recently developed Cal State East Bay Arts Events Sponsorship Program has its first major gift of $2,500 from Gary and Ann Roads of Livermore in support of the Music Department's 13th Annual Night of Jazz at Yoshi's. 
Their son, Matt, earned a B.A. in music at CSUEB last spring. The gift is a direct response to the level of teaching and educational experiences Matt had during two years at CSUEB.
"Our decision to contribute to the program was born from our witnessing through Matt CSUEB's commitment to music, and most importantly, to the students. If the arts are to survive, it will take that level of professionalism from teaching institutions to inspire students to not just get through the program to receive their degree, but to also mentor them, helping them to reach their full potential," said Gary Roads.
They were particularly impressed that this level of attention to teaching came at a time of severe budget cuts to all areas of the University.
"We think the Yoshi's show is an excellent venue to showcase the level of talent that comes from CSUEB's programs. We know that when Matt and his friends played there they were in awe at being able to play on the same stage as musicians they admire," said the elder Roads.
Matt is currently teaching bass, drums and guitar at two music schools, one in Hayward and one in Livermore. He also performs with several local bands playing music ranging from jazz, to Latin/jazz, reggae/rock, and modern punk. He's also applying to graduate schools through the guidance of mentor Johannes Wallmann, CSUEB assistant professor of music and director of jazz studies. 
"The arts at CSUEB enhance the campus and the community with outstanding performances, plays, and exhibits," said Kathleen Rountree, interim deal of the College of Letters, Arts, and Social Sciences. "In a time of increasingly tight resources, individual financial support is imperative to help underwrite production costs, so that performers and audiences are able to enjoy the beauty and communicative power of the arts.  I am delighted that the Arts Sponsorship program is off to such a strong start," said Rountree.
The Arts Events Sponsorship Program was created in fall 2011 to support art, music, and theatre and dance programs. Depending on the size of the gift, sponsors can be recognized on the department web site, in promotional materials, in the event program, in on-site signage, at a student and faculty reception, with a guided backstage or exhibition tour, and with free tickets to the sponsored event
Information on the Arts Events Sponsorship Fund is available at event
DD