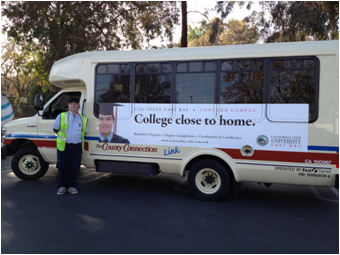 shuttle bus
Cal State East Bay's Concord Campus offers a free shuttle for all students, staff, and faculty from the Concord BART station.
The shuttle, which began its inaugural run in October, is an alternative option for transportation with direct service from Concord BART.
The ride from the station is less than 15 minutes and allows students the convenience of leaving the driving to someone else during high traffic commute hours.
To help students get used to the new shuttle – Cal State East Bay partnered with 511 Contra Costa, The County Connection, and Associated Students Inc. to offer free Bus and Bart Passes to riders during fall, winter and spring quarter in addition to offering free ride-match services for all students.
For the shuttle schedule and more information about future promotions, go to the Alternative Transportation Web page.
DI