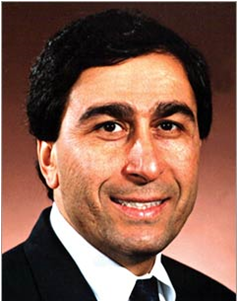 John Farahi '71 (By: Monarch Casino)
John Farahi '71 received the prestigious 2011 Hotelier of the Year Award from the Nevada Hotel & Lodging Association (NHLA).  He is the CEO of the Atlantis Casino Resort Spa in Reno. Farahi earned his bachelor's degree in political science from California State University, East Bay.
The Hotelier of the Year award is recognized by industry peers for their exemplary achievements, contributions and leadership.  Farahi received an equally impressive acknowledgement in 2010 when Monarch Casino & Resort, Inc., owner of Atlantis, was recognized on Forbes' List of "The Most Trustworthy Companies" based upon an independent financial analytics company.
The Pioneer legacy runs deep at the Atlantis because John's brother, Ben Farahi, who serves as the CFO also graduated from Cal State East Bay. Congrats to both Farahi brothers on their successes!
KL