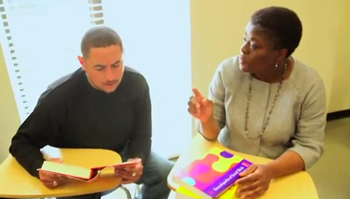 Associate Professor Dianne Rush-Woods (right) with a student in the MSW program at CSUEB.
Listening to Associate Professor Dianne Rush-Woods talk about her family and her past is like listening to a rather engaging history book. She says, "I grew up extraordinarily poor. My mother was the daughter of a share-cropper, my father... worked for other people. So they came to Oakland running from the South." These beginnings inspired her to want to help the poor in some capacity.
After high school she went to the University of California, Berkeley for a degree in sociology. As part of her degree, she volunteered at a rehab center and "fell in love." She came to the realization that beyond having the desire to help others, she was good at it. That initial realization spawned a career that lasted two decades.
Still in love with her career, Rush-Woods decided she wanted to teach those who shared her passion for helping others. She earned an advanced degree from UC Berkeley, but ran into some difficulty finding a job.
"At the time [UC] Berkeley wasn't too keen on hiring full-timers. One of my friends referred me to [California State University] East Bay; I taught my first class in '98 or '99, and I've been here ever since."
In that time, she has served as head of the academic senate and was the head of the Department of Social Work for three years. She summed up her philosophy about her job like this: "It's easy for someone to be arrogant about poor people, to look down on them. I wanted to help the poor in a respectful way, as equals."
Watch Prof. Rush-Woods in the new micro-documentary highlighting the Master of Social Work program at Cal State East Bay on YouTube
LP