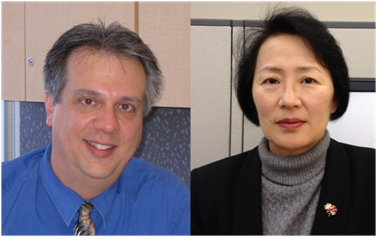 Left to right, Steve Toler and Lin-Lin Cheng (By: Foster City Patch)
Foster City announced that Cal State East Bay college of business alumni were recently promoted at the City.  Steve Toler, who is currently serving as finance director, will be promoted to assistant city manager while Assistant Finance Director Lin-Lin Cheng will become finance director.
Cheng and Toler both graduated from Cal State East Bay with bachelor's degrees in business administration with a concentration in accounting.  In June 2012, Toler will complete his pursuit of a master's degree in public administration at CSUEB.
"Steve has proven himself to be a valuable member of the Foster City team and is well regarded within the organization, amongst his professional peers and within the community," said City Manager Jim Hardy in a statement. "Lin-Lin has been a dedicated member of the Foster City team for many years and has demonstrated her thorough commitment to ensuring that Foster City's financial resources continue to be managed in an efficient and ethical manner."
Congratulations to both Steve and Lin-Lin!
Read press releases:
Lin-Lin Cheng Named New Finance Director 
Steve Toler Named New Assistant City Manager
KL