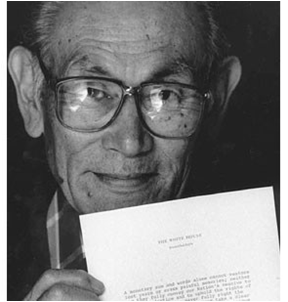 Fred Korematsu (By: salon.com)
Cal State East Bay will celebrate the second Fred Korematsu Day on Jan. 31, 2012 with an intergenerational panel on Japanese-American internment held in Professor Colleen Fong's ethnic studies class from 6:30 to 8 p.m. in MI2008.
Guest speakers include:
Ivor Nii, who was interned in Minidoka, Idaho, and his daughter Valerie Taniguchi
Oakland immigration attorney Donna Fujioka and her daughter, Kimi Fujioka Guillermo
CSUEB President Leroy Morishita plus a statement from his son, Kyle
Korematsu, who passed away in 2005, became a symbol of civil rights repression during World War II after refusing to participate in the forced relocation of more than 100,000 Japanese Americans to internment camps. He initially lost a Supreme Court challenge to the policy, but in 1983 newly discovered documents that showed the government had lied to the high court led to the overturning of his conviction. He later helped win reparations for internees and was awarded the Medal of Freedom by President Bill Clinton.
The event is a collaborative effort by Colleen Fong, professor of ethnic studies, the Asian American and Native American Pacific Islander-Serving Institutions grant (Program SSOS), CSUEB Department of Ethnic Studies, and the CSUEB Asian Pacific Islander Staff and Faculty Association.
Seating is limited, so please RSVP in advance to Professor Colleen Fong at colleen.fong@csueastbay.edu.
KL