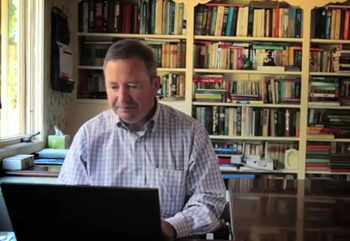 Patrick Devine at computer in home office
Patrick Devine's story begins the way many immigrant stories do: he left his native country, Ireland, at a young age to look for a better life in the United States. His struggle to find stability was compounded by his youth, new surroundings, and lack of higher education. "Coming from Ireland, my father was a carpenter, my mother was a hairdresser, and the idea of going to university was not even within the realm of possibility."
Making the move to California from the East Coast, Patrick eventually achieved stability with a family and steady employment, developing a niche in compensation and incentive programs within the high-tech industry.
Still lacking higher education, Patrick noted the differences between himself and his coworkers: "When I arrived in California, I quickly realized as I looked around that I really needed a good education if I was to get anywhere." At the age of 30, Patrick enrolled in then-Cal State Hayward's class of 1987 for an undergraduate degree in finance and then a MBA in 1991.  
Patrick, CSUEB's 2010 Alumnus of the Year, is the focus of a new micro-documentary highlighting his life. In the video, Patrick discusses the ways his MBA helped him generally fulfill his potential in life and how Cal State East Bay turned out to be the right institution for him.  
LP