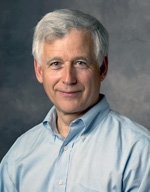 Economist David Henderson (By: mercatus.org)
David Henderson, associate professor of economics at the Naval Postgraduate School, will discuss "Seven Myths about Free Markets" on January 18 as part of the Smith Center for Private Enterprise Studies speaker series. The lecture takes place at 2:00pm in the old university union, room 311. Event is free and open to the public.
Henderson has written extensively on public policy and has been published in the New York Times, The Wall Street Journal, Fortune, Los Angeles Times, and Chicago Tribune. He has testified before the House Ways and Means Committee, the Senate Armed Services Committee, and the Senate Committee on Labor and Human Resources.  Henderson has had teaching appointments at Washington University, the University of Rochester, and the University of Santa Clara, and has served as a senior economist for the Council of Economic Advisers, where he covered health care issues. In 1997, he received the excellence in teaching award from the Naval Postgraduate School.
Watch interview with Professor Henderson about "Seven Myths about Free Markets".
KL