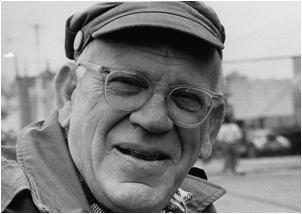 Eric Hoffer (By: bobfelton.com)
Tom Lorentzen '68 will explore the life and times of Eric Hoffer, a man whose career traveled from a one-time hobo and longshoreman to a widely read and acclaimed writer, on January 11 at the CSUEB Concord campus.
Hoffer is best known for his first book, The True Believer, a landmark explanation of fanaticism and mass movements. Other books and articles followed, helping to establish him as an important commentator on the rise of communism, fascism, and Nazism and offering explanations of the appeal of such powerful and troubling movements. A 1956 profile in Look identified Hoffer as "Ike's Favorite Author." He died at his home in San Francisco, of natural causes, on May 21, 1983 at the age of 80.
Lorentzen retired as regional director the U.S. Department of Health and Human Services and was elected to the Cal State East Bay Educational Foundation Board of Trustees in 2007. He earned his bachelor degree in political science from Cal State East Bay.
This event will be held on the Cal State East Bay, Concord Campus located at 4700 Ygnacio Valley Road, Concord, CA on Wednesday, January 11 from 2:00 to 3:30 p.m. Visit the OLLI Web site for more information or to register for the program. 
KL