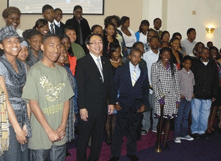 President Leroy Morishita (center) poses with the youth members of the congregation at Glad Tidings Church of God of Christ(By: Barry Zepel)
Cal State East Bay partnered with the CSU and 22 African American churches in the East Bay region for Super Sunday Feb. 19 in an effort to increase the number of African Americans attending college.
Throughout the day, CSU presidents, trustees, professors, staff members and Chancellor Charles B. Reed address congregations about the importance of a college education during the seventh annual Super Sunday events.

Chancellor Reed spoke before the congregation of Family Bible Fellowship Church in Newark, while new CSUEB President Leroy Morishita addressed two separate congregations of Glad Tidings Church of God of Christ in Hayward. And in an early start to Super Sunday one week earlier, President Morishita spoke to two separate morning congregations of Acts Full Gospel Church in Oakland.

As the university's outreach has grown through the years, CSU staff and church education liaisons have continued meeting to further develop ways to communicate with the African American community, particularly young men. New programs launched include financial aid workshops, expanded distribution of college materials to sixth through 12th grade students and their parents, and the development of a how-to guide for church educational advisers who work directly with families within these communities.         

Following each of the selected church services on Super Sunday, CSU outreach directors and church education advisors provided information on the application and admission process, including virtual tours through CSU Mentor, the Web site that helps students apply for college. CSU officials and staff members also discussed the role of parent involvement and early student preparation in getting to college.
One of the informational pieces to be distributed during Super Sunday is the "How to Get to College" poster, providing middle and high school students and their parents with step-by-step information on the path to college. Members of each congregation also heard about the CSU's Early Assessment Program, an academic preparation testing program enabling 11th graders to gauge their college readiness in English language arts and mathematics long before applying to the CSU.

Additional information about the Super Sunday, including the names and addresses of participating churches, can be found on the Cal State East Bay Web site.
BZ