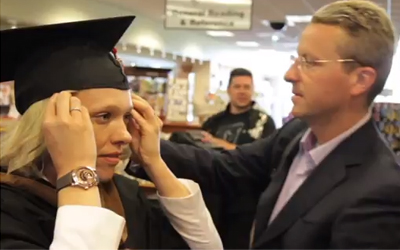 blonde woman puts on graduation cap and gown
Nobody would have been able to call Anastasia Fedotova lagging or unsuccessful in her native Russia; she was educated and she had steady and gainful employment. Still, Anastasia didn't feel that she personally had the skills set that she needed to be a success on her own scale. "Before I got my MBA degree I wanted to be more confident, and at work I found I lacked some experience; some skills; some knowledge."
Fedotova knew she was interested in international business and set about looking for a program to suit her needs. She decided on the Moscow MBA program offered by CSUEB, because it allowed her to stay in Russia while earning a degree from an accredited U.S. university, and still go to class and work so that she could apply her education to reality.
Since graduating, Anastasia is up for promotion at her job in Russia. Reflecting on the changes that have resulted from her degree, Anastasia noted the personal changes in addition to the expected career enhancement: "I became smarter, more self-confident, more professional, and I know that I can develop my career to the highest level, and I am proud of myself."
Fedotova is the subject of a new micro documentary highlighting her achievments and the importance of her MBA. Watch the video.
LP