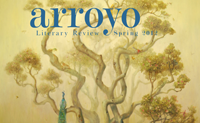 Magazine cover showing stylized drawing a tree.
Everyone 21 and over is invited to celebrate the release of the fourth annual "Arroyo Literary Review," the literary journal of Cal State East Bay's English Department, from 6-8 p.m. Feb. 23 at the Bistro, 1001 B St., Hayward, 94541.
There will be free food, a no-host bar, and readings by poets Sarah Ciston and Andrena Zawinski, and fiction writer Willy Lizarraga. 
Affectionally called "Arroyo-4," the 120-page issue contains four pieces of fiction, 36 poems by 15 authors, an interview with John Felstener, translations of both Chinese and German poems, images of several wood engravings by Caldecott award winner and children's book illustrator Beth Krommes, and a cover design by Martin Wittfooth.
The document was edited by Jennifer Bennett, of San Leandro, for a second consecutive year, with the help of associate editors Janet Burns, of Oakland, and Christopher Blood, of Alameda, and design support from Dabney Lyons, of Brentwood, all second-year master's students in English.
The book will be available for sale at a discounted price. Normally, it is sold for $8 at the University bookstore. It is also available at the University Library.
DD