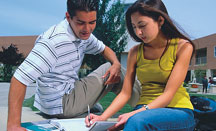 CSUEB students
Cal State East Bay's Office of Admission will be accepting Undergraduate applications for Upper-Division Transfer students for the Summer 2012 Quarter. Applications will be accepted through May 1. To view a detailed list of open majors for Summer 2012, please visit Cal State Apply. For students interested in the impacted Business Administration, B.S., the supplemental application will be accepted through April 12. Learn more at: CBE.
To apply for admission to Cal State East Bay, students must complete the following items:
•      Submit an application through CSU Mentor at Cal State Apply and pay the $55 nonrefundable application fee. 
•     Request official transcripts from all colleges and universities attended to be sent to Cal State East Bay. Transcripts may be mailed directly by the college or university or hand-carried in an original sealed envelope to Cal State East Bay's Enrollment Information Center in the Student Services & Administration building on the Hayward Campus, or to the Academic Services Center on the Concord Campus.
As a reminder, students are required to meet all deadlines and requirements as published on our Web site so that an admission decision may be rendered and students can enroll in classes in a timely manner.  If these requirements are not completed, an application may be canceled.
Upper-division transfer applicants must have 60 transferable semester units (90 transferable quarter units) and the four basic skills courses completed by the beginning of the term prior to enrollment. (For example, Summer Quarter applicants must complete these items by the end of the Winter term.)  The basic skills courses can be found at: admission. To view CSUEB's important application and document deadlines for the Summer Quarter 2012, please visit: deadlines. 
KL