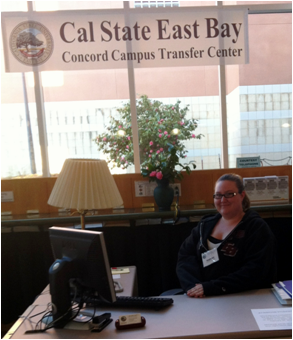 Woman sitting at her desk
Cal State East Bay expands its reach to students and professionals with the grand opening of a new transfer center at the Concord Campus. The new center provides personal service for a smoother transition to CSUEB.
Peer advisors and professional staff provide pre-admission counseling services, tours, monthly information sessions, CSUEB application and Web site navigation assistance for prospective students.
Transfer center hours for the 2012 winter quarter are:
 Monday – Wednesday
 4 p.m. to 6:30 p.m. 
All are invited to attend the Grand Opening reception to meet peer advisors, faculty, staff, current students and alumni of Cal State East Bay. This free event will be held Tuesday, February 28, 2012 in the Concord Campus Transfer Center located in the Academic Services building from 5:00pm to 6:30pm.
Cake and light refreshments will be served. Prizes and give-a-ways will be distributed throughout the evening. RSVP for the reception here. For more info call the Transfer Center at (925) 602-6399 or cctransfercenter@csueastbay.edu
DI