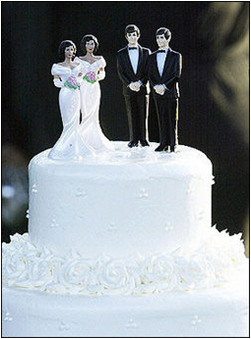 wedding cake with same sex partner toppers (By: patheos.com)
The Cal State East Bay Philosophy Society will host a discussion on, "Gay Marriage and Philosophy: From Plato to Judith Butler," as a part of CSUEB's 7th Annual Queerfest. Event will take place at noon on Wednesday, February 15 in the ASI Diversity Center.
How have philosophers talked about marriage through time? What is marriage for?  Is it always a good thing? Professors Jennifer Eagan and Chris Moreman will facilitate the discussion along with Society members
Event is co-sponsored by Queerfest and the ASI Diversity Center. Everyone is welcome to attend.
For more information, visit the event Facebook page.
KL