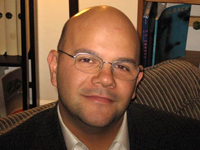 Khal Schneider
Khal Schneider, assistant professor and graduate coordinator of history, will speak about "U.S. Economic History from the Great Depression to the Present" at 7 p.m. Feb. 27 in the Fremont Main Library, 2400 Stevenson Blvd., Fremont.
His presentation is part of the "One Book, One Community Reading Program" coordinated by the American Associated of University Women–Fremont Branch, the Fremont Library, and the Fremont Unified School District, which is focusing on John Steinbeck's "The Grapes of Wrath."
The program is free and open to all. Additional information is available at the AAUW Fremont Web site, or by leaving a message at (510) 728-9700.
DD