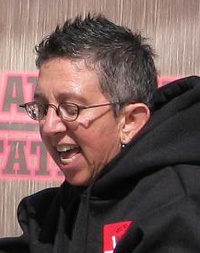 Head shot of associate professor Calvo.
February 16, 2012 10:00am
Luz Calvo, CSUEB associate professor of Ethnic Studies, will be among several women speaking March 8 at the Hayward Honors Women Teach-in at the Hayward City Hall. Her topic will "Radical Women of Color." 
The 5-7 p.m. program, presented by the Hayward City Council, honors International Women's Day. Carol Chetkovich, Mills College professor of public policy, and members of the league of Women Voters will also speak.
For information, or to RSVP, contact Hayward Council Member Barbara Halliday barbara.halliday@haywardca.gov (510) 583-4358, or Council Member Mark Salinas at (510) 583-4357.
DD