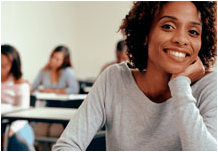 student in classroom
The Office of Graduate Studies will host its Pathway to Graduate School event March 8 from 6 to 8 p.m. in the New University Union Multipurpose Room.
Prospective graduate students will be given the opportunity to speak with faculty and staff about the various graduate programs Cal State East Bay offers students.
Individuals will be guided through the application process and be introduced to admission requirements, cost of attendance and financial aid possibilities. Workshops and presentations will also be held that focus on topics such as, writing a personal statement, financing graduate education and preparing for the GRE and GMAT.
Registration and information tables open at 5:30 p.m.
Information and online registration for the event is available at gradevents.
CV