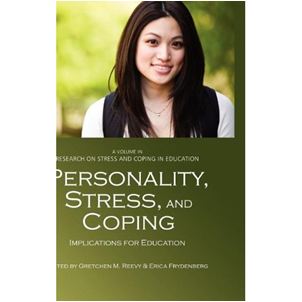 Psychology lecturer Gretchen Reevy (By: infoagepub.com)
Information Age Publishing has released a new book co-edited by Gretchen Reevy, Cal State East Bay psychology lecturer, which addresses contemporary original research on personality, stress, and coping in educational contexts. Personality, Stress, and Coping: Implications for Education (Information Age Publishing, 2012) is a new volume in the IAP book series, Research on Stress and Coping in Education. 
Personality, Stress, and Coping spans primary, secondary, and tertiary education. Research participants are students and teachers. The volume brings together contributions from the United States, Australia, Canada, Italy, Scotland, and Hong Kong. Outcomes of interest in the studies include achievement (e.g., grades), cognitive processes such as problem solving, and psychological/ emotional health and well-being.
Reevy has authored and/or edited several books, including Encyclopedia of emotion, Two volumes. (Greenwood Press, 2010) and The Praeger handbook on stress and coping, Two volumes. (Praeger Publishers, 2007).  She also presented, The power of positive emotion, at the TEDxHayward Conference on Peace Innovation in 2011.
Read previous CSUEB blog story about Gretchen Reevy, CSUEB professor and alumna publish book on human emotions
KL