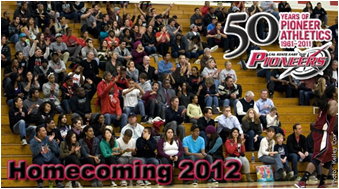 picture of crowd at a basketball game
Cal State East Bay Athletics is set for a week of Homecoming 2012 events, contests and games celebrating Pioneer Pride and the 50th anniversary of the Pioneer Athletics Department through Feb. 12. The weeklong event, which will culminate with a basketball doubleheader against Cal Poly Pomona, also will include a Homecoming parade and dance, spirit contests, step show and pre-game tailgate all seeking to bring members of the campus community together in celebration of the university and all of its Pioneers.
Each day of the week will take on a theme and students, faculty and staff alike can join in the fun by dressing for each theme.
Today, Tuesday, Feb. 7, you will see the campus turn back the clock for the '80s Pioneer Pride theme day. In addition, the week of fun and games will open with Homecoming Kickoff where students can participate in games and win prizes, as well as pick up their Homecoming Passports on the Bookstore lawn from 12-2 p.m.
Capping the week of excitement is the Pioneer baseball team, which will host Westmont and Menlo College on Sunday, Feb. 12. The games are slated for 11 a.m. and 2:30 p.m. at Pioneer Field.
For further information on Homecoming Week 2012, including sign-up forms for contests and events, visit CSUEB Student Life and Leadership and the Homecoming 2012 page.
KL