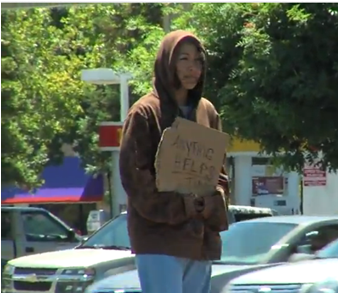 Sabrina Rodriguez '05 goes undercover to report on life as a panhandler for KTXL. (By: KTXL)
Sabrina Rodriguez serves as a reporter and fill-in anchor on the morning news at FOX-affiliate KTXL in Sacramento. Her job has led to a range of assignments including a recent story for which she went undercover as a panhandler, playing her guitar, and asking for money over the course of three hours on the streets of Sacramento.
"It was a humbling experience," Rodriguez says. "I received $27 in three hours, a sandwich, and an iced coffee from a homeless man. So many people asked why I was on the streets, and I also discovered a real brotherhood among the homeless who look out for one another." Watch the story: Panhandling: A Reporter's Firsthand Experience
It should be no surprise that this communications major was named California State University, East Bay's 2011 Young Alumnus of the Year for her work as an Emmy Award-winning broadcast journalist. "After growing up watching some of the best local news in the country, I knew I wanted to report the news when I got older."
KL