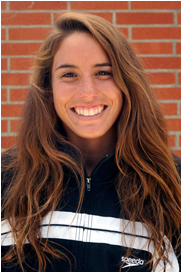 Sara Bonino
Senior Sara Bonino competed in her final home swim meet for Cal State East Bay on January 20. She took first place in the 200 Yard Butterfly with a season best time of 2:14.85 and was victorious in the 1000 Yard Freestyle by 11 seconds in 10:52.64.
"Sara did a great job in her final home meet," Loorz said. "Not only did Sara take two events, but she swam two great legs in our relays."
Bonino was part of 400 medley relay that placed fifth in 3:41.36 at the PCSC Championships and was named CSUEB Bookstore November Athlete of the Month for capturing the 1650 freestyle at the Bay Area Invitational.
She, along with her CSUEB teammates, will be competing in the PCSC Championships on February 8-11.
Read more on the CSUEB Athletics Web site.
Way to go, Sara!
KL