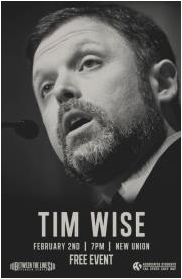 Tim Wise flyer
Associated Students, Inc. (ASI) will host Tim Wise on February 2 in the multi-purpose room of the New University Union at 7:00pm. Event is free and open to the public.
Wise is among the most prominent anti-racist writers and educators in the United States, and was named one of "25 Visionaries Who are Changing Your World," by Utne Reader in 2010.
He is the author of six books, including the highly acclaimed memoir, White Like Me: Reflections on Race from a Privileged Son. his latest, Dear White America: Letter to a New Minority, which examines rising white anxiety in an increasingly multicultural nation. He received the 2001 British Diversity Award for best feature essay on race issues, and his writings have appeared in dozens of popular, professional and scholarly journals.  Wise has appeared on hundreds of radio and television programs, is a regular contributor to discussions about race on CNN, and was featured in a segment on ABC's 20/20.
For more information, contact ASI at (510) 885-4843 or visit the event Facebook page.
KL