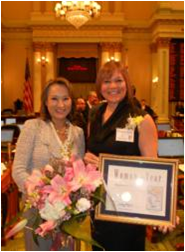 Mary Hayashi and Charmaine Banther (By: PRWeb)
Educator Charmaine Banther, an alumna of CSUEB with a degree in computer science and a teaching credential, was recognized for her accomplishments in a special Women of the Year floor ceremony in the State Capitol.
Assembly Member Mary Hayashi (D-Hayward) named Charmaine Banther as her "Woman of the Year." A resident of Castro Valley, Banther is a teacher at James Logan High School in Union City, and is a dedicated advocate for quality public education. She serves as the President of the New Haven Teachers Association and presides as Vice Chair of the California Teachers Associations' Pacific Asian American Caucus.  Banther was recognized in a floor ceremony on March 26 at the State Capitol with other Assembly Member-selected Woman of the Year honorees from across California.
"Ms. Banther is a tremendous role model for young women and girls, demonstrating how one person can make a huge difference in both the larger public policy arena and in her local community," stated Assembly Member Mary Hayashi. "It's an honor to have this opportunity to recognize Ms. Banther for her efforts and thank her for all the work she has done for our students and schools."
The Woman of the Year award began in 1987 as a way for the California State Legislature to celebrate Women's History Month. Each year, every Assembly Member is invited to select a woman to receive this award, and they gather together at the State Capitol to honor their accomplishments in a ceremony on the Assembly Floor.
KL