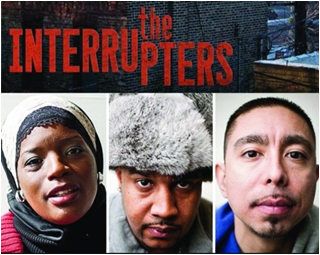 The Interrupters movie poster
Cal State East Bay criminal justice department will screen the award-winning documentary, The Interrupters, on March 7at 6pm in MI 2032 at CSUEB, Hayward. Event is free and open to the public.
The Interrupters details the moving and surprising story of three "violence interrupters" in Chicago who with bravado, humility and even humor try to protect their communities from the violence they once employed. The concept of the documentary/film is to show the desire of change to take effect in highly crime invested neighbors. The twist is that the people trying to create and enforce the change were once part of the madness. The violence interrupters — who have amassed consider street cred as former gang members themselves — often place themselves in serious danger when stepping into disputes. The young people they work with are especially at risk: In 2010, nearly 700 people under the age of 18 were struck by gunfire. Sixty-six of those children died.
For more information, contact Silvia Ituarte, silvina.ituarte@csueastbay.edu or (510) 885-3203. View the film's Web site at interrupters
TG