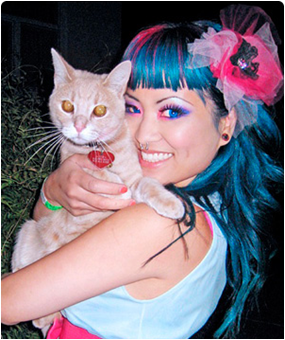 Amy Doan with her four beloved cats. (By: sugarpillshop.com)
Cal State East Bay alumna Amy Doan '02 may look like a club kid with her blue hair and anime style outfits but don't be fooled - she's a successful fashion entrepreneur.  In less than 10 years, she has founded the fashion line Shrinkle clothing and a vibrant makeup line called Sugarpill Cosmetics.
Both created industry buzz but Sugarpill has garnered international attention through its successful partnerships. In 2010, Sugarpill was the official makeup brand for Sanrio's Hello Kitty 35th Anniversary Celebration. Doan designed a dress for the Sanrio fashion show, as well as a new dress for the Hello Kitty mascot. Last year,  Sugarpill caught the attention of Island Def Jam recording artist Kerli, who chose the makeup as the official brand for her "Army of Love" video, which has received almost three million YouTube views.
Doan began designing and selling clothes in 2002 under the Shrinkle brand while pursuing her BA degree in journalism at Cal State East Bay. After graduation, she said, "I ditched the idea of ever becoming a newspaper reporter when I realized I couldn't pry myself from my sewing machine long enough to apply for a 'real' job."   
While Doan always knew she wanted to be a fashion designer, her parents, originally from Vietnam, had hopes she would choose a more traditional career like medicine. Doan couldn't be persuaded, "If you love what you do and are extremely passionate about what you create, then you're on the right track." Good advice.
KL