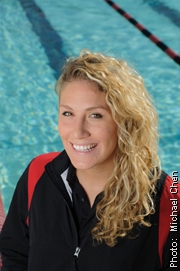 Jayme Pekarske (By: Michael Chen)
Jayme Pekarske set a new season high and helped Cal State East Bay pick up its third win of the season against a Division I opponent to earn WWPA Player of the Week honors.
Pekarske, a senior majoring in liberal studies with an emphasis in teacher education, opened the weekend with 11 saves, two steals and an assist in a 12-10 victory over the host Rams. She continued to dominate in the cage in an 8-5 loss to No. 13 Indiana. Pekarske held the Hoosiers to just two goals in the first half and sent the game into the fourth quarter with the Pioneers trailing by just two. Though IU broke out in the final period to pick up the win, Pekarske finished the game with a season-best 16 saves. Pekarske also held the Hoosiers scoreless in the first quarter.
The Player of the Week honor is the second of Pekarske's career and fifth for the Pioneers since they joined the WWPA during the 2009-10 season. Read more on the CSUEB Athletics Web site.
Way to go, Jayme!
KL