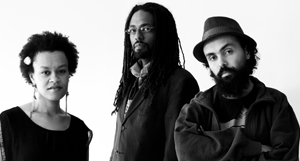 three young, Theiopian performers.
Ellias Fullmore, '11 M.A. Multimedia, has made MTVHive with the debut song he and fellow Ethiopians Meklit Hadero and Gabriel Teodros created for the hip-hop space opera.
Named "CopperWire," the trio describes "EarthBound," its debut album, as a sci-fi concept record that blends funk, jazz and hip-hop amongst a myriad of rhythms.
Fullmore and four other multimedia students, including Jateen Bhakta and Clare Lewis, made news close to a year ago as the Cal State East Bay "SlipStream" team that took a 180-degree projected video game installation to the San Mateo Maker Faire.
Last July, Fullmore, Bhakta and Lewis formed the mobile app development company, "AppSynth Media," that is enhancing the "EarthBound" experience with two apps, one providing bonus narration tracks, the other enabling users to do their own mix on one of the tracks. 
The app will launch in early April, the album on April 17.
More on the music at: CopperWireMusic.com
DD