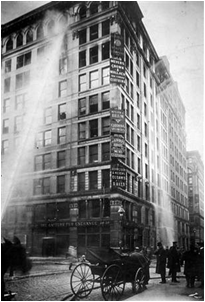 Triangle Fire
One hundred years ago on March 25, 1911, a cataclysmic fire swept through the Triangle Shirtwaist Factory in Lower Manhattan. The fire killed 146 people and helped to galvanize the U.S. labor movement. The victims were mostly young immigrant women, many of whom jumped to their death to escape the flames. The tragedy prompted many improvements in fire safety across the country, such as sprinkler installation and laws mandating fire drills.
Gerald Henig, Cal State East Bay professor emeritus of history, will put this tragedy in historical context during a lecture on March 17. He will explore the issues it raised regarding a new tide of immigrant workers, the role of labor unions, government regulation of workplaces, and women's rights.
This event is offered as part of the Osher Lifelong Learning Institute (OLLI) at Baywood Court in Castro Valley at 1:30pm. Visit the OLLI Web site for more information or to register.
KL