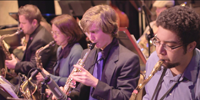 Jazz students (From left to right) Christopher Almada , Mari Hayashi, Alex Attard, and Antonio Juarez
Congrats to CSUEB jazz students who participated in the Santa Cruz Jazz Festival last weekend. The Jazz Orchestra received unanimous "superior" ratings and was invited to give a "command performance" at the festival's final concert.
This marks the third consecutive year that the Jazz Orchestra has been awarded this honor at this festival, according to Johannes Wallman, assistant professor of music, and director of jazz studies. The CSUEB Latin Jazz Ensemble, in its first year participating at the festival, also received unanimous "superior" ratings in the Jazz Combo category, and music major percussionist Louie Flores, Jr. was recognized for his Outstanding Musicianship.
The festival took place Friday-Saturday, March 16-17 at Cabrillo College in Aptos, and included 60 participating middle school, high school, and college ensembles. 
Cal State East Bay was represented by 30 students from the Jazz Orchestra and the Blue Note Ensemble, both under the direction of Wallmann, the Jazz Singers, directed by Associate Professor Buddy James, and the Latin Jazz Ensemble, under the direction of Lecturer Saúl Sierra-Alonso.
DD