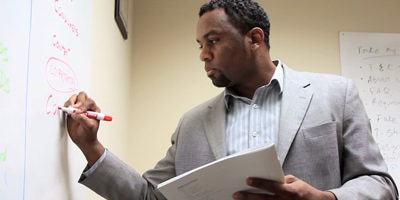 Man writing on a whiteboard.
It's a little funny how English idiomatic expressions about change often refer to storms: every cloud has a silver lining, on the winds of change, sea change, etc. Jenerro Lockhart knows better than most how storms can affect people and, yes, how they can bring about evolution.
Lockhart was born and raised in New Orleans, Louisiana, and by all accounts was building his life to stay in that area. In 2005 he was employed in the medical field while going to school to pursue his dream of becoming an environmental scientist. By the end of August, though, Hurricane Katrina had ruined everything. New Orleans, for all intents and purposes, was gone; the streets were destroyed, three-quarters of the city was underwater, and Lockhart had been separated from his family.
The woman who eventually became Lockhart's wife had grown up in Hayward, "Her family sent me a plane ticket so that I may have somewhere to live while I re-evaluated my situation." He made the 2,000 mile journey from the ravaged Gulf Coast to the Bay Area with $60 and the clothes he was wearing. Thoughts of the ruined city plagued him and in an effort to distract himself, he enrolled in California State University, East Bay, finally earning his degree in ecology.
After a few years of working in the environmental field, Lockhart decided to get his MBA to further advance himself in upper management and to give himself more options in the future. Again, the unexpected happened; during his studies in the cohort he found his love and passion for marketing, "Many times we … are told to pick a career or a field. I'm thankful that my career found me." Mr. Lockhart has gone on with three of his classmates to start a marketing firm, United to Connect, International (U2Ci) in Alameda which provides branding and business solutions for local businesses.
Looking back on his journey, Lockhart said, "I feel that since Katrina, I'm more focused. I have a sense of purpose and direction. A lot of things in my life are now more goal-oriented. I'm more willing to take risks than before."
To hear more from Jenerro about how his journey, watch his video.
LP