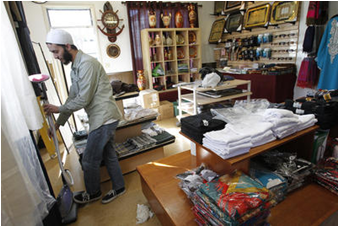 CSUEB student Jabir Tarin organizes inventory at his new store, Maqbool Islamic Clothing. (By: Bay Area News Group)
San Jose Mercury News reporter Matt O'Brien interviewed entrepreneur and Cal State East Bay student Jabir Tarin for his article, "Muslim fashion takes hold in Bay Area."
Tarin will open Maqbool Islamic Clothing later this week (check their Facebook page for details) in the historic Alvarado district in Union City with his older brother and a friend after not being able to find fashionable Muslim clothing. They are hoping to capitalize on the growing trend of young American-born Muslims mixing and matching from global Muslim styles with their western style banker suits and fashionable H&M outfits.
Tarin said what Muslim youths wear is inspired by Islamic scriptures, longstanding cultural traditions and a desire to emulate others whose clothes they admire. It doesn't hurt that the Bay Area is an accepting place, he added.
"One of the blessings of living in the Bay Area is there's so much diversity," Tarin said. "You could all but go naked and nobody will say anything."
Visit Maqbool Islamic Clothing at 3851 Smith Street in Union City, CA 94587 or their Facebook page for more information.
KL