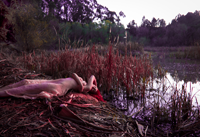 woman in beige dress lying on the bank of a river.
"Image and Ideas," an exhibition of a wide range of photography by fine art students, is on display in the Old Kiln Gallery Room, room 1202 in the Arts and Education Building, 25800 Carlos Bee Blvd., Hayward, 94542.
Everyone is invited to a closing reception from 3-4 p.m. Tuesday, March 20. Refreshments will be served. 
The Old Kiln Room Gallery is the recently remodeled student gallery with new track lights, fresh paint and improved wall space, according to Scott Hopkins, associate professor of art. Future, periodic student exhibitions are planned for this space.
Cal State East Bay students showing work are Alyssa Albatana, Ziad Bou-Ghosn, Yasemin Cenberoglu, David Chilcoat, Eric Coe, Dinah DeSpenza, Shalee Evans, David Hunt, Lisa Huynh, Robert Lopez, Angela Monte, Emanuela Quaglia, Evelin Saavedra, Jena Scholten, Justin Ta, Kevin Troglin, Ryo Usami, Mark Weisbecker, and Mei Ling Zhang.
The exhibition is open Monday, March 19 from 10 am to 6 pm.; and Tuesday, March 20 beginning at 10 a.m. and until the end of the reception.
DD