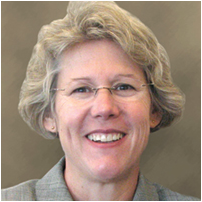 Dean of CSUEB's College of Business and Economics Terri Swartz
Terri Swartz, dean of the CSUEB College of Business and Economics, will speak at the East Bay Women in Business Roundtable on April 6. Their 2012 Luncheon Theme is "Women Defining the East Bay's Future," which focuses on East Bay women who are leading the way in their respective industries.
Swartz will discuss the transformative power of education and how education can impact the development of business leaders and the businesses they run. Her expertise and insight into how education is shaping business leaders, in particular, businesswomen, promises to make this event enlightening. Her vision and leadership has resulted in the  Princeton Review rating Cal State East Bay as one of the country's 294 "Best Business Schools" in 2011, for the sixth consecutive year.
 Swartz's recent accolades include being named, by the San Francisco Business Times, as one of the Bay Area's Most Influential Women for the past two years. Read story.
The lunch starts at 11:45am at the Waterfront Hotel in Oakland's Jack London Square.  For more information:  email Amanda Medina, Oakland Metropolitan Chamber of Commerce, at amedina@oaklandchamber.com or view the event Web page.
KL