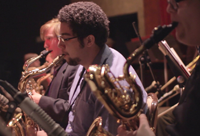 Students, from left, Alex Attard, Antonio Juarez, Aryien Shapiro, prepared for Yoshi's concert during sound check. (By: Martin Wood)
CSUEB jazz students had an opportunity to perform at the Bay Area's premier jazz club, Yoshi's at Jack London Square, this week thanks to the first major gift to the University's Arts Events Sponsorship Program by Gary and Ann Roads of Livermore.
The gift is a way for the Roads family to give back to the University for the high quality of teaching and educational experiences their son Matt received while earning his music degree last June.
They were particularly impressed that this level of attention to teaching came at a time of severe budget cuts to all areas of the University.
The Roads family chose the Yoshi's show to sponsor because it has provided Matt and his friends with the opportunity to play on the same stage as musicians they admire.
The Arts Events Sponsorship Program was created in fall 2011 to support art, music, and theatre and dance programs. Depending on the size of the gift, sponsors can be recognized on the department web site, in promotional materials, in the event program, in on-site signage, at a student and faculty reception, with a guided backstage or exhibition tour, and with free tickets to the sponsored event
Information on the Arts Events Sponsorship Fund is available at http://www.csueastbay.edu/class/files/docs/sam/arts-sponsorships-final.pdf
DD