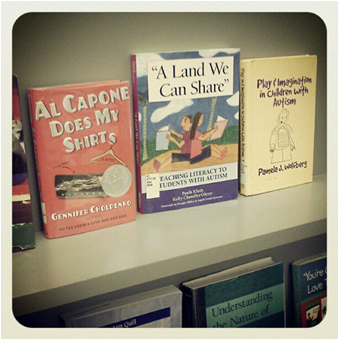 CSUEB library display autism-related material from their collection during the month of April. (By: Tashma Greene)
April is Autism Awareness month, and the Cal State East Bay library, in conjunction with Assistant Professor of Communicative Sciences & Disorders Shubha Kashinath is helping to raise awareness by showcasing some of the library's holdings. Look for the display just to the right of the main entrance near Starbucks.
Find out more about Autism at Autism Speaks. Autism statistics from the U.S. Centers for Disease Control and Prevention (CDC) identify around 1 in 88 American children as on the autism spectrum–a ten-fold increase in prevalence in 40 years.
KL