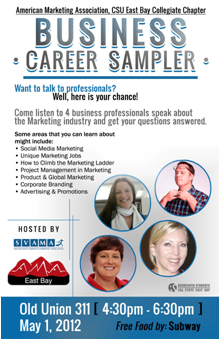 Business career sampler flyer
Classroom assignments are one thing, but what's it really like to work in a marketing role? Cal State East Bay students will have the opportunity to find when four marketing professionals share their personal experiences and insights about the marketing profession at a "Business Career Sampler" on May 1, 4:30pm-6:30pm, in room 311 of the old union.
Hosted by American Marketing Association (AMA), CSU East Bay Collegiate Chapter and the Silicon Valley AMA chapter, the agenda includes discussions about social media marketing, unique marketing jobs, how to climb the marketing ladder, product management, global marketing, corporate branding, and more.  A question and answer session will be held at the end.  Free Subway will be provided.
Visit the event Facebook page to RSVP and for more information or email executivevp@amaeastbay.org.
KL