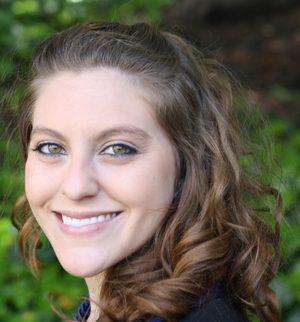 Caitlin Ibarra will share information from her award-winner paper at the May 23 meeting of the Anthropology Club.
A presentation by Caitlin L. Ibarra, a Cal State East Bay graduate student in anthropology, was recognized as the best student talk at this year's annual meeting of the American Association of Physical Anthropologists in Portland, OR.
Ibarra's paper is on the computed tomography (CT) scanning she is using to visualize skeletal features and diagnose disease from skeletal material. She will be doing a similar presentation to the CSUEB Anthropology Club from noon to 1 p.m. May 23. (Please contact the club for the location.)
"This has a wide variety of applications in forensics and epidemiology. It is also very useful for prehistoric demography studies," said W. Henry Gilbert, assistant professor of anthropology.
"The Eve Cockburn Student Prize is only given to one student each year, and indicates that she had the best presented student paper in the United States in the field of paleopathology this year," said Gilbert.
Ibarra began using CT scans for reconstructing virtual skeletons while an undergraduate at the University of California, Berkeley, in work with Gary Richards, associate professor at the University of the Pacific Dental School. Her goal was to reconstruct two individuals who had unique malformations, one with multiple dysplasias, the other a dwarf with possible tuberculosis.  
The reconstructions began with scans of each bone, followed by virtual assembly in a computer program.
"We realized early on that even though this method is expensive and time consuming we were able to get new insight into these conditions and, even more importantly, we could see how these individuals would have been perceived," said Ibarra.
She and Richards are now training four Cal students in this technique, and have plans to train others.
Ibarra hopes to develop a CT scan archive of living individuals that can be used as a comparison when reconstructing skeletons, and continue to train others in reconstruction to gain further insight into physical conditions and document morphology. 
"The benefits to physical anthropology will be that researchers can share scans easily, see morphology that would normally not be seen, have an increase in understanding of these conditions, and fragile skeletons will not need to be handled, increasing preservation," said Ibarra.
DD