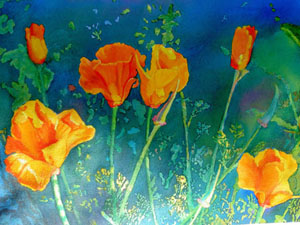 Flower art
The Cinema Place Gallery in downtown Hayward is reopening with an exhibition featuring the work of several CSUEB alumni.
This "Second Annual Invitational Show" will feature 32 local artists, including CSUEB alumni Marge Barta Atkins, '68 English, and Michael Wallace '11 art, and many others who have studies at Cal State East Bay.
Beginning in 1993, Atkins focused on watercolors of flowers, particularly matilija poppies. In time she added landscape, buildings, and still lifes. Her recent work shows considerable surface texture in acrylic collages, various papers, and granulated pigments.
Sculptor Wallace will bring back his popular "Leaf Spring Chair," as well as "Balance No. 2."
Operated by the Hayward Arts Council, the free exhibition will be open April 5 through June 8 at 1061 B St. 94541. Gallery hours are Thursday, Friday, and Saturday from noon to 8 p.m. and Sunday from noon to 4 p.m. The Gallery is free and open to the public. A reception is set from 5 to 7 p.m. Thursday, April 12.
DD